Two-Way Solid Poly Sorting Panel
Sorting Panels or Sorting Boards are ideal for sorting or moving pigs and help to protect farm workers and hogs. Hog operations using sorting panels that are not bio-secure have hollow sorting panels with seams that crack or split open. By cracking or splitting open, the sort panel can harbor bacteria or disease and potentially result in poor pig production.
Double L's Two-Way Solid 30″ x 36″ Poly Sorting Panel is manufactured as one piece solid molded construction with no seams to split open and harbor diseases. Double L's Poly Two-Way 30″ x 36″ Sorting Board was specifically designed to address bio security issues while moving hogs with ease.
Constructed of heavy-duty, high-density polyethylene, Double L's Poly Two-Way Sorting Panel is a lightweight yet extremely tough and durable solid hog sorting panel with rounded corners with no sharp edges. 1.25″ flared edges on perimeter of sorting panel prevent sort panels from falling into the pit. Comfortable, rounded handle hole grips on the top and side of sorting panel allow for easy handling two ways with better control. Smooth surface is easy to clean and disinfect. Won't dent like aluminum.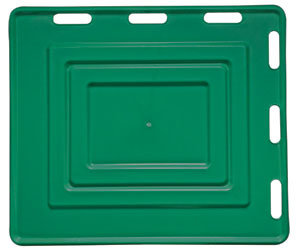 SP30x36
Part 16460
30″ x 36″ (762mm x 914.4mm)
Ship Wt: 14 lbs ( 6.4 kg)
Hog operations using sort panels that are not biosecure are hollow with seams that crack and split open (see red sorting panel below). This allows panel to harbor bacteria and diseases, resulting in illnesses and poor production.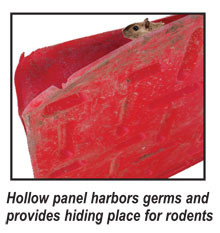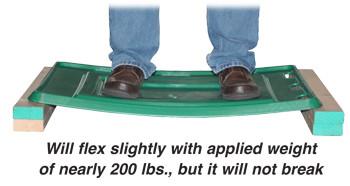 poultry window 8 RetroAire Inlet decrease air or water leakage Custom sizes available
Learn
Made in the USA Designed for expansion and contraction Perimeter gasket system to ensure a good seal between glass and outer frame to improve house tightness and decrease air or water leakage Two-Way Solid Poly Sorting Panel 8 RetroAire Inlet Sorting Panel Designed for expansion and contraction Improves poultry house tightness and decreases air or water leakage Heavy-duty multi-walled construction of the panels offer high thermal resistance, giving excellent thermal insulating values while still allowing natural light to enter the house Perimeter gasket system to ensure a good seal between glass and outer frame to improve house tightness and decrease air or water leakage Custom sizes available Two-Way Solid Poly Sorting Panel 8 RetroAire Inlet Sorting Panel Perimeter gasket system to ensure a good seal between glass and outer frame to improve house tightness and decrease air or water leakage Custom sizes available Made in the USA Designed for expansion and contraction Poultry Division inlets Poultry Division inlets
Learn
Poultry Division inlets